Ever since I first ate Bircher muesli it's been one of my go to breakfasts. It's quick, easy and so versatile. I will admit I'd been hesitant to try it originally. I'm not a huge porridge fan, often preferring it on the sweeter side (as with my walnut and honey porridge with blackberries). I first tried it in Amsterdam and completely fell in love. I was so surprised at how fresh and creamy it was, I often find porridge on the stodgy side, but this was completely different.
As soon as we got home I set about making it nearly every morning and trying different combinations. Generally I would make it with lots of fruit and grated apple, which is the more traditional way. However this is the method I have been trying out winter and it really works. The banana adds a great layer of sweetness without adding sugar, not to mention a delicious banana flavour.
Often called overnight oats, Bircher muesli can be made the night before and stored in the fridge while the oats soak in the milk (or apple juice). I actually prefer to make it the morning of and only soak the oats for about half an hour. Again it comes back to not liking anything too stodgy! However if you prefer, you can leave the oats soaking in the fridge overnight and then just add the remaining fresh ingredients in the morning.
Linking up with: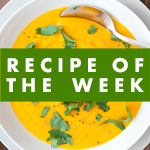 Banana Bircher muesli
2015-03-24 22:27:16
Serves 2
Ingredients
2 bananas
100 grams rolled oats
80ml milk or almond milk
40 grams yogurt
1 tablespoon chia seeds
1/4 teaspoon of cinnamon
Toppings for serving
Instructions
Mash up one of the bananas in a bowl and add the oats and milk. Stir and leave to soak, either overnight or for half an hour. When ready to eat stir in the chia seeds, cinnamon and the yogurt (use more or less depending on how creamy you like it).
Slice the other banana and serve with whatever topping you like. I love a drizzle of honey, blueberries and chopped walnuts.
a girl & her home http://agirlandherhome.com/