In advance of pancake day (aka Shrove Tuesday) on 17 February I wanted to share some pancake posts with you in the run up to the big day. I don't know about you but it's one of my favourite holidays! This week (25-31 January) is also breakfast week and this recipe makes a great breakfast!
Although I have to say I used to look forward to it a lot more when I was younger, probably because it was one of the only times in the year that I would actually make pancakes. Now, I make them all the time. However, I usually make some form of healthy pancakes throughout the year and so this pancake day I will look forward to it again as I treat myself to some, full fat, full sugar, full deliciousness crepes. However, for those of you looking for something to give you that sweet pancake satisfaction but in a healthier way this is the perfect recipe. It also makes a great breakfast, which is usually when I enjoy it.
Now, I'm sure you've probably heard of and maybe even tried the famous two ingredient banana pancakes. Don't get me wrong, I do enjoy them and I was thrilled when I tried them. I couldn't believe how much they tasted like pancakes. However, for breakfast I don't find them satisfying enough. I would always be hungry later. This recipe changes that. Firstly there are oats to give some nice slow release energy. There's still plenty of protein with eggs but I've also added some Greek yogurt.
Now a side note about Greek yogurt. Greek yogurt is an amazing ingredient and packed with protein. Greek-style yogurt is not. Don't be fooled, the only thing they have in common is the thick texture so make sure you look out for proper Greek yogurt. Fage is my favourite.
Anyway, back to it. You've got a serving of fruit and added sweetness with some grated apple as well as some essential fats with ground almonds. You can now see that these are a lot more satisfying!
I vary the flavour combo of these frequently but I thought I'd share this version for pancake day as the lemon and poppy seed flavours make it seem more like a dessert. Top with fruit, maple syrup or even a sprinkling of sugar if you fancy reminiscing about lemon and sugar pancakes!
Let me know if you come up with any other flavours, enjoy!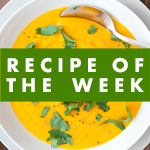 Lemon and poppy seed pancakes
2015-01-24 14:39:36
Serves 2
Ingredients
100 grams oats
2 tablespoons Greek yogurt
1 apple grated
2 large eggs
1 teaspoon baking powder
50 grams ground almonds
Pinch of salt
1 tablespoon honey or maple syrup for sweetness (optional)
2 tablespoons poppy seeds
Zest of half a lemon
Instructions
In a blender all of the ingredients except from the poppy seeds and the lemon zest. Blend until combined, you may need to scrape down the sides occasionally. Add the poppy seeds and lemon zest and pulse until distributed. The mixture should be like normal thick pancake batter.
Heat a pan over a medium to low heat and melt either some butter or coconut oil. Add the mixture, about two tablespoons per pancake and cook for 2 minutes on either side until golden.
a girl and her home http://agirlandherhome.com/